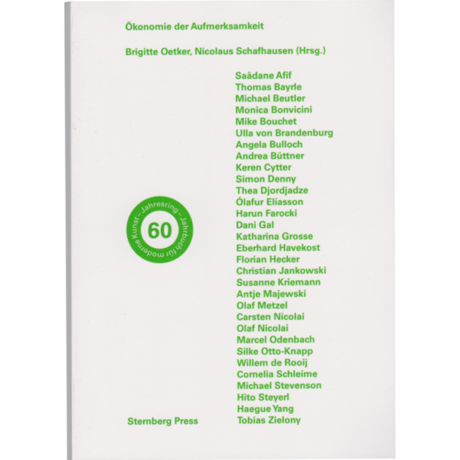 Published by: Sternberg Press
Year of publication: 2013
Language: Deutsch/Englisch
Pages: 328
ISBN: 978-3-95679-024-9

Contributions by: Saâdane Afif, Thomas Bayrle, Michael Beutler, Monica Bonvicini, Mike Bouchet, Ulla von Brandenburg, Angela Bulloch, Andrea Büttner, Keren Cytter, Simon Denny, Thea Djordjadze, Ólafur Elíasson, Harun Farocki, Dani Gal, Katharina Grosse, Eberhard Havekost, Florian Hecker, Christian Jankowski, Susanne Kriemann, Antje Majewski, Olaf Metzel, Carsten Nicolai, Olaf Nicolai, Marcel Odenbach, Silke Otto-Knapp, Willem de Rooij, Cornelia Schleime, Michael Stevenson, Hito Steyerl, Haegue Yang, Tobias Zielony

Content

Preface
The 60th Jahresring takes the form of a compilation of interviews with contemporary artists. Many are established, well-known representatives from the contemporary art world, whereas others are starting out on their international careers. In this sense, this Jahresring is like a snapshot of a highly active art scene that stretches beyond national borders. Nicolaus Schafhausen put a series of questions to a total of thirty-one painters, sculptors, filmmakers, photographers, and installation artists is not supposed tob e a representative cross section. At the same time, something like an inventory of salient factors emerges in the overall interplay between the individual positions; factors that exert an increasing influence on contemporary artistic practice. Art's presence in the field of new media has never been more pronounced. Never before has their been such a profusion of exhibition views available on the Internet. Access to media images and Internet-based possibilities for research have significantly altered contemporary art production. Even art academies have accomodated this fundamental transformation by establishing new courses, such as Artistic Research. But those artists, whose work has little or nothing to do with new media, also face the challenge of reflecting their own media presence.
A new international center for art has emerged in the capital of Berlin. This is also reflected in this collection of interviews. Many of those interviewed live in Berlin, have moved from abroad to the city, o rare represented by Berlin galleries. Others who live abroad, view the new capital from a renewed perspective.
The art market has changed and has clearly gained influence in the field of contemporary art. Even art institutions take a different approach today than they did twenty years ago; the are pursuing a different kind of exhibition policy with a keen focus on younger, emerging positions. The changes to these different spaces go hand in hand and these parallel developments can be clearly felt in the interviews, which were conducted partly via e-mail and partly "live". The same questions were put to the artists by way of a starting point, and then, in the course of the interviews, were supplemented by others relating to artistic practice and ist situation in today's art system. Thus, the individual work is not the central focus of attention but the respective self-positioning by the artists in an era shaped by far-reaching changes.
Since the 1960s, the artist interview – oriented towards ist journalistic predecessors – has established itself as an independent genre and has generated a large number of artistic statements, which have provided art history with some valuable source material. Nowadays, one comes across this feature-style conversation with an artist in almost every issue of an art magazine. The artist appears as an interpreter of his or her own creative work and provides a firsthand witness to ist genesis. However, in the case of this compilation of interviews, what actually emerges are temporally fixed positions within an activity which is, in large part, associated with precarious working conditions, and is more integrated into the logistics of the market than ever before; precisely because it has managed to establish itself as a serious profession. This book offers insight into this "other" dimension of an artist's existence and registers attention economy as a central component of contemporary art production.


Nicolaus Schafhausen and Brigitte Oekter